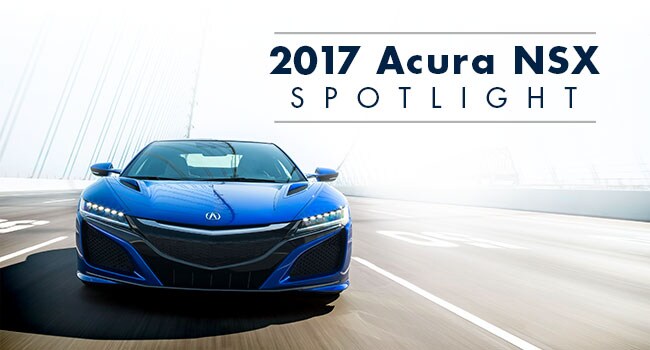 Acura gets a lot of recognition in the industry for being one of the most value-oriented luxury brands available, and there's also something about the brand that feels more youthful and energetic than other competitors in the premium segment. The 2017 Acura 

NSX

is finally here and takes that youthful vibe to the next level with supercar thrills and a powerful hybrid powertrain.

Acura

takes advantage of the fact that hybrids have the potential to crank out a lot of power in a short amount of time, something that the rest of the industry doesn't seem to have noticed yet.
All you have to do is look at the numbers -- the Acura NSX sports three electric motors paired with a mid-mounted twin-turbo 3.5-liter V6 that cranks out a whopping 573 combined horsepower and 476 lb-ft of torque. The aerodynamic and angular design gives the Acura NSX a somewhat menacing look reflective of the sheer power and innovation it sits on as a platform and powertrain -- the product of a small, specialized team that focused all their efforts on the design of this one car.
The hybrid powertrain also has the added bonus of helping to boost the fuel economy of the NSX. While most sports cars of this caliber would have low numbers dipping into the teens, fuel ratings for the NSX are expected to peak somewhere in the mid- to late-20s, though official numbers aren't out yet from the EPA.
 The 2017 Acura NSX is expected to launch sometime soon, before the end of spring, so you can get your hands on this high-end sports car -- a vehicle made to look, feel, and drive like an exotic, with the trust and value of the Acura brand name. If you're looking for something a little more fiery and cutting-edge, the Acura NSX is as good as it gets.