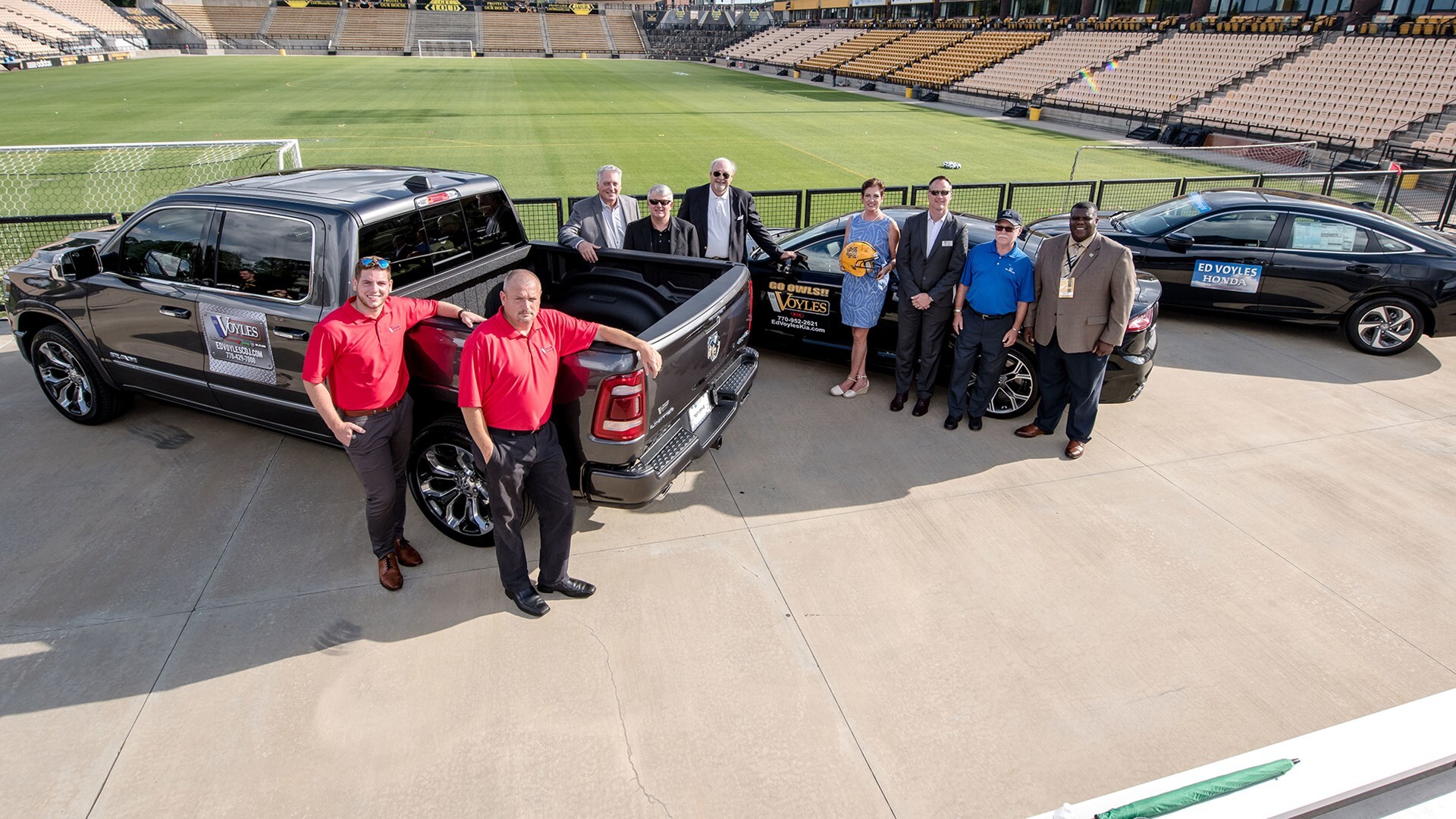 Ed Voyles Automotive is so excited to announce our new partnership with Kennesaw State Department of Athletics! This new partnership makes Ed Voyles Automotive the official car dealership of the Owls.
"We want to thank Trustee Valery Voyles and the Ed Voyles family for this tremendous opportunity to partner with the Ed Voyles Automotive Group, Inc.," said Overton. "This extraordinary partnership will help the department fund 25 scholarships over a five-year span, which aligns with KSU athletics and Ed Voyles' mission to build champions in the classroom, on the field, in life and in our community."
 
The new five-year agreement makes Ed Voyles the official car dealership of the Owls through the 2022-23 athletic year.
Ed Voyles Automotive is always looking for new ways to becoming more involved and immersed in the Kennesaw, GA community. Partnering with Kennesaw State was just natural for the local car dealership.
In addition to being named the official car dealership of the Owls, Ed Voyles has partnered with Kennesaw State athletics to launch a new fan loyalty app, called Owl Rewards. This new app should be launching in the coming weeks and is designed to enhance the fan experience and increase attendance at athletic events.
Our dealership is incredibly proud to be partnering with such an incredible organization with a long history of championships. In fact, Kennesaw State won the most championships in school history in 2017-2018, capturing seven regular season championships and winning two more tournament titles to take home the 2017-18 ASUN Bill Bibb Trophy as all-sport champions of the league.
In the future, Ed Voyles Automotive will look to find new ways to support the Kennesaw State athletics program and specifically the football program in Georgia.

 "We are excited about our Partnership with Kennesaw State University as it continues to reinforce our culture of supporting Education and being a positive force in the communities where we live and work," said Ed Voyles Automotive President and Chief Operating Officer Bill Brantley.
Learn more about our commitment to our customers and supporting the Kennesaw and greater Atlanta area.