What's the Difference Between the Acura MDX and RDX? – Chamblee, GA Acura Dealer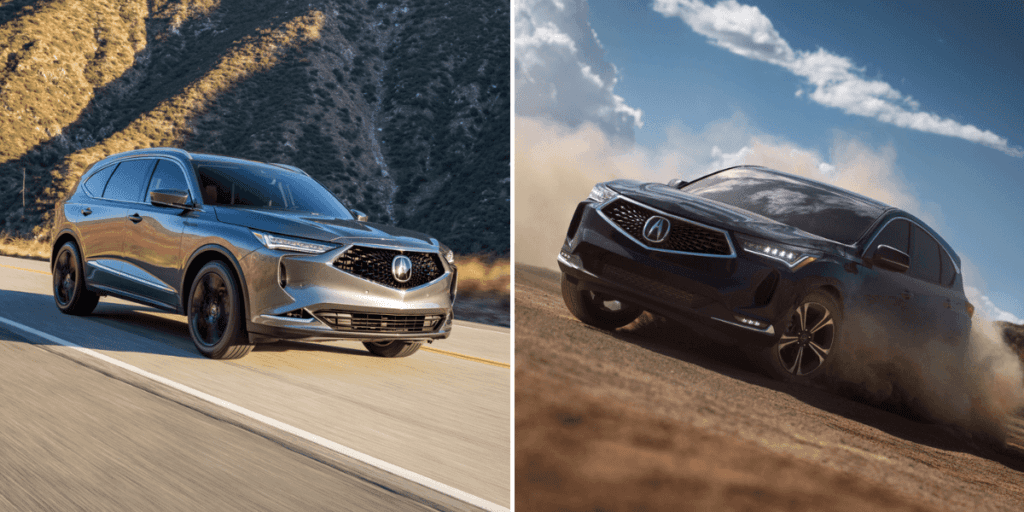 Acura's 2022 lineup offers two premium SUVs in the MDX and RDX. At a glance, the two are pretty similar, both offering comfort for the whole family without sacrificing performance, so what might make you prefer one over the other? Take a look at these two luxury SUVs with Ed Voyles Acura in Chamblee, GA to help you decide which one is right for you.
Shop SUVs
Two Powerful and Efficient Acura SUVs
The MDX and RDX are both designed with power and speed in mind. The RDX is capable of putting out an impressive 272 horsepower and 280 lb-ft of torque, more than enough to give you a thrilling ride. The MDX is even stronger though, with 290 horsepower and 267 lb-ft of torque standard, and a whopping 355 horsepower and 354 lb-ft of torque from the upgraded Type S.
While the MDX might have a little more kick, there is a trade-off in fuel efficiency, with the RDX coming in at 22 MPG combined and the MDX only at 19 MPG combined. So if you're looking for the one with the most speed and power, the MDX might be for you. But if you want to go further on the Chamblee roads with less fuel, you might prefer the RDX.
Room for Everyone and Their Gear in the Acura RDX & MDX
The RDX and MDX both offer an excellent amount of room for you and everyone you want to bring with you, but there's a definite winner of the two. The RDX offers seating for 5 and a cargo capacity of 58.9 cubic feet, so you won't have to worry about driving around a few friends with their bags. The MDX, however, has room for a third row, raising the max seating to 7, and offering an impressive 71.4 cubic feet of storage room.
So if you know you'll want to take a trip with six or more, or need a lot of room for big gear, you might prefer the MDX. Still, the RDX is plenty roomy for five, and with a towing capacity of 1,500 lbs, so you'll still be able to take everything you need with you.
The Latest Technology in the Acura RDX & MDX
While both these models have plenty of modern conveniences to keep you connected and entertained on the go, the MDX does have a few extra bells and whistles you might want to know about. The RDX has a lovely 10.2-in HD touch screen center console for your music, maps, and apps, but the MDX offers a 12.3-in HD display, the largest Acura has ever put in a vehicle.
The MDX also comes with a 12.3-in Precision Cockpit Digital Instrument Cluster, putting all the most important info you need in a beautiful, customizable interface right in front of you. No matter which SUV you choose, you're sure to love standard features like Apple CarPlay and Android Auto, and available features like an ELS Studio 3D Premium Audio System for playing your favorite tunes on a Georgia road trip.
Shop the 2022 Acura MDX and RDX With Ed Voyles Acura in Chamblee, GA
At Ed Voyles Acura, we're confident that there's no wrong choice when it comes to these two impressive SUVs, and we hope you agree. If you know which one is right for you, or want to take some time shopping both, go ahead and look through our online inventory in Chamblee, GA to see all the RDX and MDX SUVs we have in stock right now. When you've got one picked out, or if you'd still like to get behind the wheel before deciding, be sure to give us a call at Ed Voyles Acura so we can get you scheduled for a test drive today!
Shop SUVs