What Does Vehicles in Transit Mean? Your Chamblee, GA Acura Dealer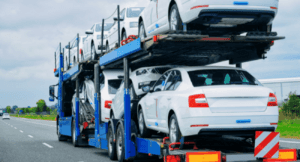 Our Vehicles in Transit page is a great way to help you find the new Acura you're looking for. But what exactly does it mean when a car is listed there, and how can you use that information? Let's look at all the ways knowing about our vehicles in transit can benefit you.
Keep Track of New Acura Vehicles That Are On Their Way in Chamblee, GA
If a vehicle is listed on our Vehicles in Transit page, then it hasn't yet arrived at our dealership, but Acura has confirmed that we will receive it within the next few weeks. That means that as long as you're willing to wait just a little bit, you're able to shop a much larger selection of vehicles than the ones that are on our lot today. If you don't see the perfect car in stock right now, make sure you look through what's in transit to see if it might arrive after just a short wait.
Shop New Vehicles

Reserve a New In-Transit Acura in Chamblee, GA
When you shop with our Vehicles in Transit page, you're getting the first pick of all the newest and hottest Acura models. If you see something you love, you don't have to wait and risk someone else snapping it up when it gets to the dealership, we're happy to reserve an in-transit vehicle just for you. When you know what you'd like, just give us a call, and we'll mark you down as the future owner of that brand new MDX, TLX, or whatever else it is that caught your eye.
Reserve Now
Order a Custom New Vehicle With Ed Voyles Acura
Looked through the whole inventory and Vehicles in Transit page and still don't see quite the thing you're after? We can solve that too. With custom vehicle ordering, we can get your dream Acura, with all the features that you're going to love, delivered directly to our dealership with your name already on it. You don't have to endlessly refresh the inventory page hoping to see something better pop up, just give us a call. Our friendly and professional staff will work with you to get an order put in for your perfect Acura, and then let you know as soon as it arrives.
Get In Touch to Reserve or Order Your New Acura in Chamblee, GA
It's important to us that you find the perfect Acura for your daily needs, and we want to do everything we can to make that possible. So take a look through our Vehicles in Transit page to see if your next favorite vehicle is on its way, and then be sure to give us a call at Ed Voyles Acura. If you've already got your eye on something, we'll gladly reserve it for you, and if nothing fits quite right, contact us about helping you order your perfect Acura today.