Explore Our Collision Center in Chamblee, GA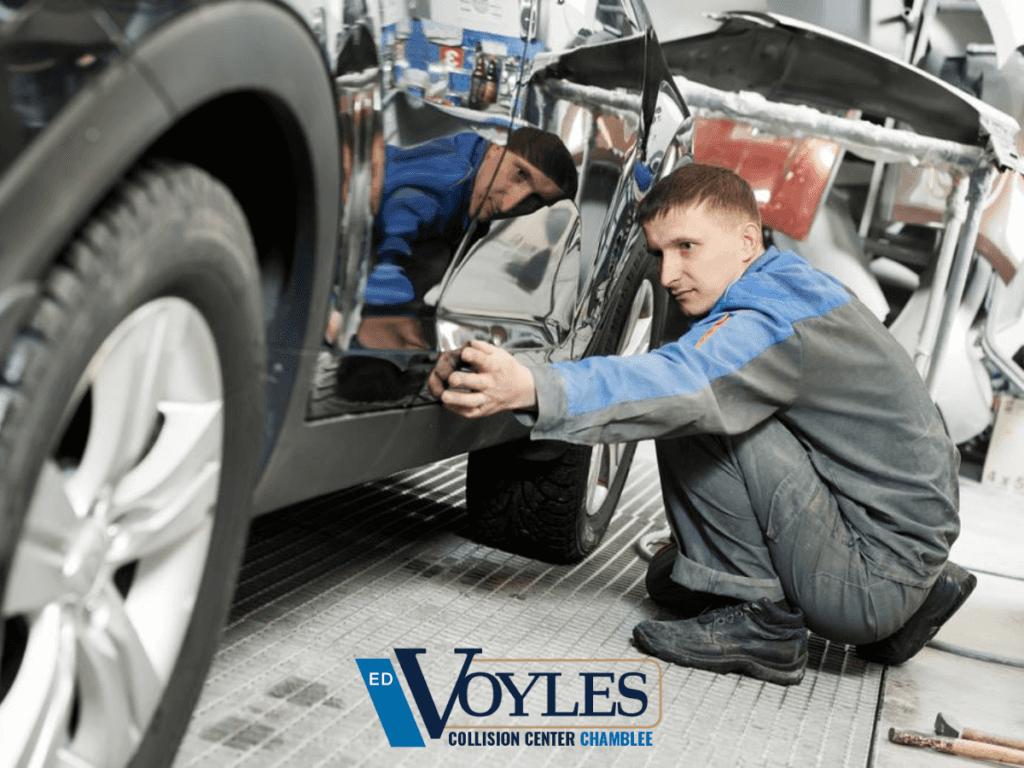 Whether you were in a major collision or simply need a minor dent repaired, the Ed Voyles Collision Center can do it all. From auto body and collision repair to restoring a paint job, our certified technicians are specially trained to work on all makes and models. We are here at our 5700 Peachtree Industrial Blvd location in Chamblee, Georgia six days a week for all your auto repair needs. Serving customers from Woodstock to Atlanta, schedule an appointment online or call us today!

Call Today for Expert Repair and Restoration on Your Vehicle
No job is too big, no dent is too small for our expert team at the Ed Voyles Collision Center. In our recently renovated, highly technological facility, we are equipped with cutting edge diagnostic and repair equipment to restore your vehicle to pre-accident condition and get you back on the road safely. Whether it is a Honda Pilot or an Acura NSX, you can rest assured your vehicle is in good hands. From minor dent removal, a seamless paint job or full collision repair, our technicians and mechanics have been hand-selected and specifically trained to ensure your vehicle is running like it did prior to any damage.
One of the Best Auto Body and Collision Center's in Atlanta, GA
Why should you trust the Ed Voyles Collision Center with your automobile? We're with you every step of the way, starting with our free estimate. Bring your vehicle by our state-of-the-art center or fill out our online form to get started. Our certified technicians and mechanics meticulously prepare the damaged vehicle for any framework or collision repair needed and then the painting process begins. Our paint-matching technology can equal the exact color of your vehicle. And before you get behind the wheel, we do. Your vehicle will be cleaned to pristine condition, and we'll test drive it after repair to ensure your vehicle is like new when you pick it up.
Get to Know the Ed Voyles Automotive Group
Like we said, we're with you every step of the way. The Ed Voyles Automotive Group has been a part of the Metro Atlanta community for nearly 70 years and we understand that getting into a car accident is a stressful ordeal. We also know that finding the time to schedule repairs is not easy, and we're here to make that process as seamless as possible. You can get started right online with your free estimate and scheduling an appointment. Every technician and mechanic we hire is dedicated to making sure the job you need gets done correctly the first time, and you are back on the road driving with confidence in your vehicle.
Schedule Repair and Restoration in Chamblee, GA Today!
When you trust the Ed Voyles Collision Center with your vehicle, you can rest assured it's in the best hands. With a refurbished facility full of innovative equipment and highly-skilled technicians, your vehicle will be like new in no time. Our facility is open Monday through Friday from 7 a.m. to 7 p.m. and even has Saturday hours to accommodate for your busy work week. Come on by for a free estimate or schedule an appointment online or by us today!