Luxury Crossover Challenge: 2020 Acura RDX vs 2019 BMW X3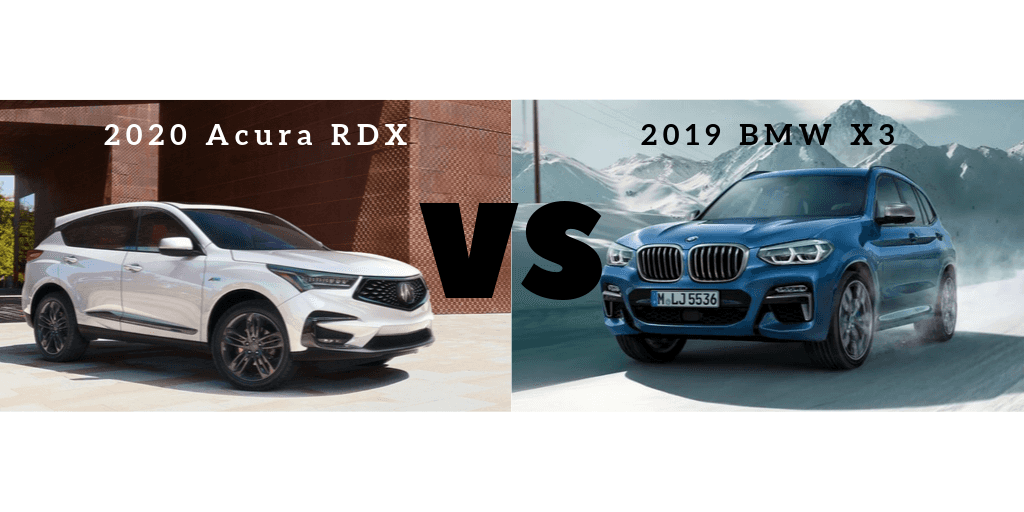 When it comes to buying a premium crossover SUV, why pay more for less? If you choose the BMW X3 over the Acura RDX, this is exactly what you'll be doing. From start to finish, the Acura RDX offers drivers more standard luxury and performance features than the BMW X3 does at a better value.
To help you understand the unparalleled value offered by the Acura RDX, the experts at Ed Voyles Acura have created a head-to-head analysis between the 2020 Acura RDX Sport Utility Vehicle vs 2019 BMW X3 Sport Activity Vehicle sDrive 30i. Continue reading to learn why the RDX outshines the X3 at every turn.


Interior Passenger Space & Cargo Volume — Acura RDX Sport Utility Vehicle vs 2019 BMW X3 SAV sDrive 30i

The 2020 Acura RDX crossover SUV offers drivers and passengers more space than what is available in the BMW X3. For starters, the Acura RDX has 38.4 inches of second-row legroom and 56.6 inches of second row shoulder room; while the X3 is more cramped with 36.4 inches of legroom and only 56 inches of shoulder room.
Taller drivers will naturally prefer the RDX thanks to substantially more leg room. The RDX offers 41.6 inches of front leg room and 59.7 inches of front shoulder room; while the X3 fails to meet the mark with only 40.3 inches of front leg room and a mere 57.6 inches of front shoulder room. All in all, the Acura RDX delivers an impressive 104 cubic feet of passenger volume, while the X3 only offers 101.4 cubic feet of passenger volume. And when you have all seats erect and in place, the Acura RDX boasts an expansive 29.5 cubic feet of cargo volume, while the X3 offers 28.7 cubic feet. Considering these dimensions, it's easy to think the RDX would be bigger and have a longer wheelbase, but it doesn't. The RDX is actually more compact with a 108.3 inch wheel base and 65.7 inches in height; while the BMW X3 is 112.8 inches long and is 66 inches high.
Engine & Performance Features — 2020 Acura RDX SH-AWD vs the 2019 BMW X3 xDrive 30i
When comparing the 2020 Acura RDX SH-AWD vs the 2019 BMW X3 xDrive 30i, both vehicles are equipped with a 2.0L Turbo engine. The Acura's engine is commandeered by a 10 speed transmission, while the BMW's transmission is an 8 speed. Thus, the Acura outperforms the BMW at every turn. For instance, the RDX delivers an impressive 272 HP and up to 280 lb.-ft. of torque; while the BMW only can produce 248 HP and 258 lb.-ft. of torque. In addition, the RDX features Super Handling All-Wheel Drive and standard AWD Torque Vectoring to help you maintain more control regardless of the driving situation.
Interior Features and Convenience – Acura RDX SUV vs 2019 BMW X3 SAV

The Acura RDX delivers you exponentially more value and features for your money. It comes with a standard 10.2-inch center display that features the industry's most intuitive information and audio control system with a True Touchpad Interface. In contrast, the BMW X3 comes with an optional 8.8-inch center display screen with a cumbersome wheel-controlled iDrive system.
While the BMW X3 features a run-of-the-mill console area with the common storage options, the Acura RDX breaks the mold and delivers a Floating Console Center. This innovative solution allows you to enjoy a unique array of storage possibilities and — most importantly — it looks remarkable. The RDX is the pinnacle of premium comfort with a standard Panoramic Moonroof, 12-way powered front heated sport seats, Apple CarPlay integration, and much more. To gain these features on the X3, you'll have to dig much deeper into your wallet.
Standard Advanced Safety Features — BMW X3 vs Acura RDX
The Acura RDX includes a myriad of advanced safety features that are not standard or simply not available on the X3, including:
Forward Collision Warning System
Multi-View Rear Camera with Dynamic Guidelines
Lane Departure Warning System
Road Departure Avoidance System
Collision Avoidance Braking System
Lane Keeping Assist System
Adaptive Cruise Control with Low Speed Follow
Auto High-Beam Headlights
Contact Ed Voyles Acura for New Acura RDX SUVs for Sale in Chamblee, Ga
If you're in the market for a luxury premium SUV, the Acura RDX offers more features, value, and innovation than the 2019 BMW X3. Best of all, Ed Voyles Acura offers one of the largest selections of new Acura RDX SUVs for sale in the Chamblee area. Contact Ed Voyles Acura in Chamblee, GA today!